Happy Sunday! We are linking up with Neely at A Complete Waste of Makeup for another socializing event. She is going back to the beginning for this one so it should be fun!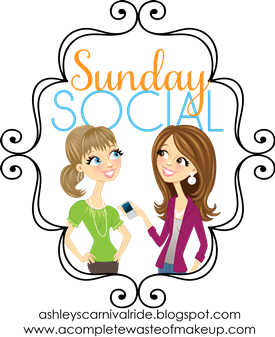 1. What is the name of your blog? How long have you been blogging?
His and Her Hobbies
Since May of 2012 -- May 6 to be exact
2. Why do you blog?
We both thought it would be fun to tell our family and friends more about what we like to do in our free time.
3. What is the first blog you ever followed?
Sean doesn't follow any blogs, and I follow so, so many. I wouldn't have any idea which one was first. It was definitely a teacher's blog - that much I know. ~Amanda
4. What is your favorite post you wrote in 2012?
I was honored and proud to post about my one year Weight Watchers anniversary and 50 pound weight loss last August. You can read the post here. ~Amanda
I got the biggest response from my post about Giving Back - specifically, my donation of blood platelets every two weeks. You can read the post here. ~Sean
5. What are your blogging goals for 2013?
We both want to blog more consistently and try to build our followers.
6. Top 3 favorite blogs to follow?

Which blogs do you love?
Happy Sunday!