It's Monday - blah! But it does mean that we get to link up with Kate and Kati to look back at the Good, Bad, and Ugly of our weekend.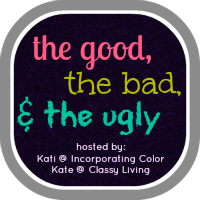 Good:

(Amanda)
It snowed on Friday! I love the snow!! Even today we have some covering the grass in the backyard.
I went to the movies with a friend Saturday and saw Silver Linings Playbook. OMG!!! Such a great, great movie. All the Oscar nominations make total sense. I loved it!!!
We both participated in the Runs for Cookies Virtual 5K. Sean finished with a time of 29:21 and mine was 66:44.
I pretty much decided that I am going to do the Color Me Rad 5K in Richmond in April. Has anyone out there done this race? Is it as fun as it sounds??
Bad:

(Sean)
Amanda and I had both signed up to do the
Runs for Cookies Virtual 5K.
My plan was to run the 5K outside near the house once I got home from work on Friday. I was able to leave early and hoped that I could finish the run before the snow started. Sadly the snow started right as I got home but I was determined to do the run so I bundled up and headed out. The snow was in my face the entire
way, no matter which direction I headed. It was like the wind knew which way I was going to turn next and changed so I would have a challenging time. To make matters worse the snow was falling a lot faster than I anticipated. I thought I would be able to get back home well before the snow accumulated but by the time I got the 2 mile mark, and the furthest point from the house, I quickly realized that the road was starting to get covered and a little slick. I had to tread carefully so I didn't slip and fall on my butt, but hurry so I could get back home before I froze to death. For the last mile or so I could see my footprints in the snow behind me which was pretty cool. It was an experience running in a snow storm, but not one I hope to repeat anytime soon.
Ugly:

(Amanda)
Each Sunday, we make our menu for the coming week. Then Sean goes shopping and I start school work. Well, this process has been getting longer and longer - sometimes it takes us over an hour to plan the menu. #exhausting This Sunday we both got so frustrated with the
process that I threw my hands up in the air and declared that I was done planning and didn't care anymore about what we ate. Not one of my finer moments! Sean picked the rest of the dinners and went shopping. We promised each other that this week we would think through how to simplify the process so we can stop getting so frustrated with one another.
We hope you had a great weekend!