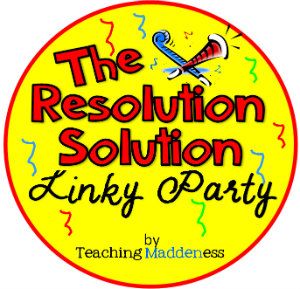 Yes, it's another linky for me (Amanda) but it's all about New Year's Resolutions and half the fun of making resolutions is learning what others have decided to work on in their upcoming year.
This linky is with Amanda (hey - we have the same name! haha) at Teaching Maddenness and Jen at The Teacher's Cauldron. Both blogs are a new find for me but I think they are great, so click on the buttons above and check them out!
My Resolutions:
Personal -
1. Be a better Weight Watcher!
I have lost exactly one pound since June. Horrible -- seeing as how the year before that saw a 50 pound weight loss. I have got to go back to being a good Weight Watcher and all that entails - focusing on making good food choices and exercising regularly to start!
2. Practice Knitting
I know how to crochet and cross stitch, but they aren't for me. This past weekend I decided that I wanted to learn how to knit. I'm hoping to practice enough to become an "OK Knitter" or even - needles crossed - a "Good Knitter".
3. Read More Nonfiction Books
I am an avid reader of fiction novels - chick lit mostly. I know there are incredible works of nonfiction out there and I should be reading them. The first I found through a linky we did Sunday (click here for that post) and I am excited to read it.
For School -
1. Stop Procrastinating!
I really only have the one resolution for school. It is the same resolution I set every year at the beginning and half way. I need to stop procrastinating! I always leave the papers that need to be graded until the last minute and I don't use my time wisely when at school. I am more than willing to "chase bunnies" (a phrase borrowed from a teacher I work with meaning I am distracted by other projects) and am not focused on what needs to be done. It is time to work smarter, not harder (again, a phrase stolen from someone I used to work with)!
For the blog -
1. Blog more!
I want to be able to continue posting even during the school week. Life gets so hectic and crazy busy that I let blogging slip to the back burner. Maybe if I can master my school resolution, it will carry over to this one.
So there you have it - my 2013 New Year's Resolutions. Here's hoping - *fingers crossed* - that I will be able to see them through to 2014.
Happy 2013 Everyone,