We are linking up with Neely at A Complete Waste of Makeup and Ashley at Ashley Lately for their Sunday Social. This week, it's all about threes...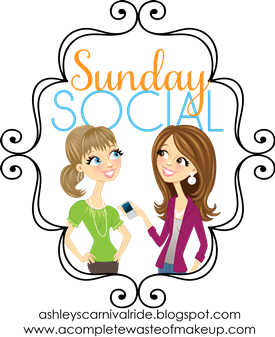 Top 3 Favorite Kinds of Food
Amanda - Italian (pasta, cheese, and sauce - what's not to love!), Chinese (fried rice, chicken with broccoli - yummy!), American (hamburgers, hot dogs, barbecue - all the great foods of a backyard cookout!)
Sean - Classic Australian foods - I have provided links to each to help explain what each item is. Meat Pies, Sausage Rolls, Rooster Rolls (I found this blog page who explains the rooster roll so well)

First 3 Things You Do in the Morning (Weekdays)
Amanda - Shower, MakeUp, Hair (I have the same routine every single morning)...all this happens with the local news in the background
Sean - Get dressed, Brush my teeth, feed the dog (It doesnt take me long to get ready so I have less things to do)

Last 3 Things You Do at Night (Weekdays)
Amanda - Pack lunch for the next day (one less thing to do in the morning), set the alarm (and dread it going off at 4:50), read (best way to relax from a long day)
Sean - Lock the doors/turn off lights etc, Brush teeth, Read (need to unwind)

3 TV Shows you NEVER Miss
Amanda - Top Chef, Project Runway, and Castle...it is a great week when all these shows are running new episodes, like right now!!
Sean - I prefer to watch TV shows on DVD or Netflix so I can watch them back-to-back, rather than stretched out like the TV does. The only show I am currently watching in the current season is "The Walking Dead"

3 Places You Want to Visit
Amanda - I can only pick three!?!? This is going to be hard. Ireland definitely (with stops in Scotland and London because they are close by)...Egypt (to see the pyramids)...Russia (specifically Moscow and St. Petersburg)
Sean - Germany (to drink the beer), Monte Carlo (to see the Formula 1 track), and Port Macquarie, Australia in May (to participate in the IronMan triathlon)

3 People You Can Always Count On
Amanda - Again, I can only pick three?!?! I am blessed to have many people in my life that I can count on. The top three on the list would be Sean (my hubbie is amazing!), my mom (because there are some days, regardless of how old you are, when a girl needs her mommy), and my dad (because I have no problem being 33 years old and a daddy's girl!)
***Honorable Mention goes to all my amazing friends who are there for me whenever I need them
Sean - Amanda, and my two In Laws. They are family to me and they would help me in any situation.
Our favorite question to answer was the three places we want to visit, so we are asking that question of you all. Where are three places you want to visit?
Happy Sunday!