*phew* What a few weeks it has been. We have never been more exhausted - emotionally and physically. Here is a basic timeline...
(Amanda) Thursday, April 25 - My grandmother passed away. She had suffered from dementia for the past few years and was in a lot of pain. Though I miss her dearly, I am grateful that she is dancing with the Lord and with her family and friends. You can read my memories of her here.
(Amanda) Sunday, April 28 - I woke up feeling horrible and running a fairly high fever. I tried to rest and pray that it would go away but it didn't. When I went to the doctor, I got the confirmation I feared - I had the flu. :(
(Amanda) Monday, April 29, evening - I was able to attend my grandmother's memorial service but warned everyone that I was sick. I hated the possibility of sharing my germs, but I felt like I needed to be there for my family and for my own personal closure.
(Amanda) Wednesday, May 1 - I went back to work and the strain of having the flu and talking again was too much for my voice. It flew off to the Bahamas without me. It stayed gone through Friday.
(Sean) All week - I coughed and coughed and coughed and coughed. I was trying to wait for my new medical insurance card to come. It didn't and I ended up having to sleep in another room because all my coughing was keeping both Amanda and I awake.
So, now that you are caught up...here's is our GBU linkup with Kati and Kate.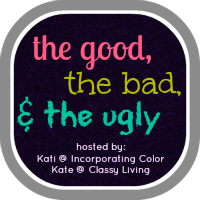 Bad -
(Amanda) My team and I took all 115 8th graders on a Field Trip Friday. The kids, who are normally fairly well behaved, were obnoxious. They wouldn't stay with their chaperones, they were running around and some were throwing things, they were yelling and screaming. I was just grateful to see it end. They acted worse than any class we have taken on this field trip in the past five years - which is saying something.
(Sean) I finally gave up waiting and went to the doctor on Friday...I contracted bronchitis for the second time in 6 months. The coughing was unbearable and as much as I didn't want to go to the doctor I knew it was the only way it was going to stop. Hopefully my lungs will clear up and I won't get it again for a long time.
Good -
After quarantining ourselves for the weekend, we are feeling a lot better. Thank goodness for rest and powerful meds.
(Amanda) My DVR is completely empty of all shows that I need to watch. This is a huge accomplishment for me because a week ago it was 98% full. At least I found a good thing about three days of being too sick to leave the house.
(Sean)Having a lazy weekend at home (even though it was due to being sick). After having a busy weekend schedule for the longest time it was nice to be able to just relax and not go out and about.
Ugly -
(Amanda) After the past few weeks that I recapped above, my school work has slipped. Progress reports go home on Wednesday and I have hours and hours of grading to do to catch up. Ugh!!

So that was our week and weekend. Here's hoping that this week is a little less chaotic and sickly.
Happy Monday,