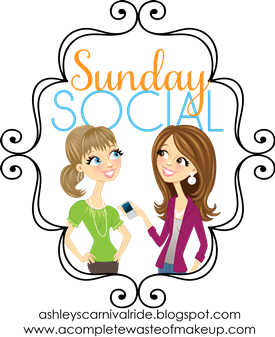 Today we are participating in Social Sunday which is all about summer!
1. What is your favorite kind of surprise?
Amanda - I love when I get a call from the main office at school that flowers have been delivered for me. It means that someone is thinking of me and wanting me to feel special.
Sean -
A check in the mail or random money found in the pocket of my jeans.
2. Flowers or Chocolate?
Amanda - No brainer (despite the previous answer)...Chocolate!!
Sean -
Chocolate....but it must be Cadbury chocolate.
3. What is your favorite summertime activity?
Amanda - Sleeping and reading, plus Sean and I usually take a big trip over the summer and that is always something to look forward to
Sean -
Going on our annual vacation
4. Do you have any vacations planned this summer?
Amanda -
We are heading to Australia for a month this summer. Soooo excited!!!
Sean - Why yes! I plan to go to a place far, far away where it is winter. I will run a race and then come home.
5. Favorite Summer Holiday?
Amanda - My birthday!!!
Sean -
I guess July 4th since there aren't any others.
6.What is your Dream Vacation?
Amanda - A month long tour of Europe - England, France, Holland, Belgium, Italy, Greece
Sean - An around the world cruise
Those were some fun questions to answer. Choose one and join in the fun!
Happy Sunday,