Happy Memorial Day! We want to start by thanking all the service men and women who took up arms to defend our country, homes, and livelihoods. We are more grateful then we can say for your sacrifice.
We are linking up on this holiday Monday with Kate and Kati for our GBU. Here goes...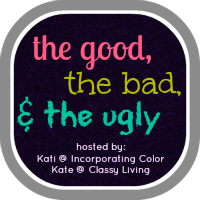 (Amanda) I spent the weekend with my good friend and her two beautiful boys. They live about 4 hours away and I miss them so much. Being able to spend the weekend hanging out was just what I needed. We took the boys to the park, watched movies, laughed, and talked. It was a perfect weekend!
(Amanda) It was great to see Kristin and the boys but that drive is killer! I left straight from work on Friday and thankfully traffic was not that bad. I came home Sunday and traffic was fine again which I am grateful for. But it just seemed like the drive would never end!!
(Sean) I stayed behind this weekend and hung out with Alex - who has been shedding really bad. I vacuumed the upstairs of the house on Sunday morning and by this morning the dog hair had returned. It looks like I haven't vacuumed in weeks. Anyone know how to successfully shave a dog??
So that was our weekend. Hope you all enjoy your Memorial Day!!