Happy Monday! It's that time of the week - GBU TIME!!!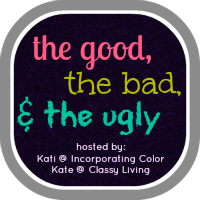 Good:
(Amanda)
Friday night the Drama Club I sponsor performed the two plays the kids have been working on (both around 45 minutes). They did an absolutely incredible job and I could not be more proud of them. I cried when I said goodbye to the 8th grade girls who have been with me since 6th grade and loved seeing my newbie current 6th graders shine in the spotlight.
Saturday I was able to spend the morning with my knitting group. It has been a really rough two weeks but a few hours with those positive and happy ladies did a lot to turn my psyche around. It just so happened that right outside where the knitting group meets was a huge art street festival. It was three city blocks of local artists selling their wares...photography, ceramics, jewelry, painting, etc. Sean and I walked around and it was really beautiful. We shared an ice cream and loved spending time together. I even found something for my mom that she fell in love with.
Since Sunday's are super crazy here and at my mom's (ahh - the life of a teacher), we all decided to celebrate Mother's Day on Saturday. We went over in the mid-afternoon and hung out for a while. I finished knitting a washcloth for my mom and then we all had dinner at a favorite restaurant. It was great to spend time with my mom.
I started this washcloth on Saturday morning and finished Saturday night - first time I finished something in one day. I gave it to my mom. I hope she uses it!!
Bad:
Sean - I am getting over bronchitis slowly but I still feel a little run down. This has prevented me from going to the gym or being able to go out for a nice long run. I am hoping that I will be able to get back in the full training routine this coming week as the big race is only 90 days away!
Ugly:
(Amanda)
I went back and forth about whether I was going to post this on here but maybe it will help me process how I am feeling and be almost cathartic.
I spent a lot of time on Sunday feeling very down and just overwhelmingly sad. Sean and I have been trying to have a baby for about a year and it is not working for us. We are starting the testing process to see where the problems are and how to fix them. This year, for some reason, I couldn't shake the feeling of sadness that I am not yet a mom. I have put my faith in God that I will be a mom one day and I am grateful that He hears and answers my prayers. Perhaps next year I will have a little one to celebrate with.
Happy Monday everyone!