Hello Monday! This weekend feels like it flew by - one blink and it was Monday morning. The only good thing about Monday is the GBU link-up with two of our favorite bloggers. Here goes...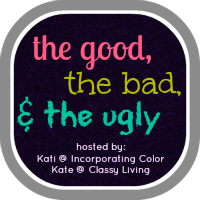 Good:
Sean - I have been training for my upcoming races so I can get qualifying times for one of the front groups in the City2Surf later this year. I have only been running the 10k distance for a few weeks and have been hovering around the 61-62 minute mark. I bought new shoes since the old ones are getting pretty worn and was hoping to get under an hour on my training run Sunday. I kept a nice steady pace and finished in 57:06 which is about 4 minutes faster than my PB. Not sure what caused the sudden drop in time but I'm not complaining. I feel much more confident for my first race this coming Saturday after this result.
Bad:
Amanda -
I don't mind being busy at work. I mind being so busy at work that I feel like the Tasmanian devil in a Looney Tunes cartoon. That was how the end of my week felt last week and with 15 items already on the to-do list for today, I don't foresee it getting any better. The week is also stacking up with meetings and "other duties as assigned". *sigh* I just want to get ahead and instead I feel like I am falling further and further behind.
Ugly:
Amanda - I went to Subway on Sunday afternoon after my work out. The two women who were working behind the counter were not communicating well. It was obvious that one of them was frustrated with the other one. Her attitude and behavior towards her coworker was ugly and I felt sorry for the customers who had to witness this blatant disrespect.
How was your weekend?
Happy Monday,