It's the start of a new month, which means it's time for one of my favorite blog posts. It's Currently time with "Oh' Boy 4th Grade". Here goes...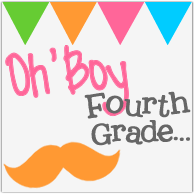 Listening...I watch a lot of shows on Food Network and Anne Burrell is one of my favorite chefs. I love all her shows and I am loving that Chef Wanted started a new season this week.
Loving...I have been on Weight Watchers for a year and a half. I know that I have made some great food choice changes and now it's time for activity changes. I am loving that I have been motivated to go the gym and work out lately. *fingers crossed that it continues*
Thinking...My DVR is full-full-full! I am hoping to watch a good portion of the shows today, but I want to plan my in-school We the People competition. (Click the name for more details) Hopefully, planning the competition won't take that long and I can spend some quality time with my DVR.
Wanting...I have been fighting a cold for two weeks now and I think I have lost the fight. I just want the stuffy nose and sore throat to go away!!
Needing...Even though it is only my husband and I, I never seem to be able to catch up on the laundry. I have several loads that need to be done today. I also, in true teacher form, have papers to grade.
Pet Peeves...I have several but my biggest is students who say "I can't!" I have a poster in my room that hangs in the center of the front wall that says, "If you think you can't, think again!" With our state tests looming (the Writing is in the middle of March) I find myself referencing that poster daily. My students are just lazy sometimes and want to say "I can't" instead of "I'll try". It is so frustrating when they just give up instead of working a little harder to master a concept.
So that is what is "Currently" happening with me. Hope you enjoyed it!
Happy February,