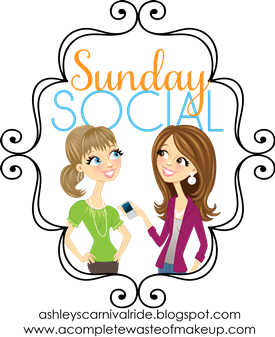 This Weeks Questions:
1. What is one movie you are terrified to watch?
Amanda - I HATE horror movies. I refuse to watch them because I would not sleep for days after. It's just better if I stick with romantic comedies. :)
Sean - Not really terrified of any movies but there are plenty of gory ones out there. First ones that come to mind would be the Saw movies.
2. What is one TV show you have always wanted to get into but haven't yet?
Amanda - I have heard great things about Homeland, but we don't have Showtime. Anyone know if it's on Netflix?
Sean - I usually stumble across new series on Netflix and end up watching them there. One series I am interested in seeing in American Horror Story as its received good reviews but I haven't dedicated enough time to watch any of them yet.
3. What is one daring activity on your bucket list?
Amanda - A daring activity on my bucket list? I have quite a few things on my bucket list, but I don't know that I would qualify any of them as daring. Traveling is a big item on the list and I guess in this day and age you could consider that daring...maybe??
Sean - Regular followers of the blog have seen my bucket list and most of the items are pretty daring. If I had to pick one I would say it would be the Pikes Peak Ascent. Its a half marathon that starts at 6500ft (1900m) and you run/walk up to the summit of Pikes Peak which is at 14,110ft (4300m)

4. Would you ever travel alone?
Amanda - Not unless I had to. Half the fun of traveling is getting to spend all that time with Sean.
Sean - I have traveled alone in the past and its been ok. Going solo did give me an opportunity to go to some events and places I would not have been able to otherwise.
5. What activities do you like to do alone?
Amanda - Read (I like peace and quiet so I can focus on the book) and Wii Zumba (I know I am doing the steps wrong, no need for an audience...haha) are the only two coming to mind. I am a pretty social person.
Sean - I like to train by myself when I bike and run. It allows me to train at my own pace and not be rushed or slowed down by another person. During a race it is usually just me versus the clock so training by myself is the best way.
Well that's our social time for Sunday. It is a beautiful day here in VA so Sean is going to play some frisbee golf. Amanda will enjoy her Sunday by getting some school work checked off the to-do list and working on a new knitting project - a scarf. Hope you enjoy whatever this Sunday brings your way.
Happy Sunday,