Well hello Monday! Neither of us were happy about the weekend ending, but at least we can look forward to the GBU link up with Kate and Kati. Here goes...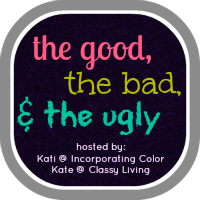 Good:
Amanda - Sean and I went out Saturday night with two friends to see Oz: The Great and Powerful. What a great movie!!! I absolutely loved it and we had so much fun with our friends. All-in-all a perfect Saturday evening!
Bad:
Sean: The weekend went by so quickly!!! We had errands to run Saturday, then hanging out with our mates for dinner and the movie. Sunday was platelets donation at the Red Cross, then grocery shopping and cooking. By the time I got everything done yesterday I was way too exhausted to play disc golf and ended up taking two naps. I am grateful to have weekends off but they seem to fly by so quickly!
Ugly:
Amanda - I have been dealing with a horrible cough for a few days now. Sunday morning a few more symptoms joined the party and by Sunday evening, I was feeling really icky. The fever that started at around 6:30 was the final icing on the cake though. With state testing this week...
How was your weekend?
Happy Monday,