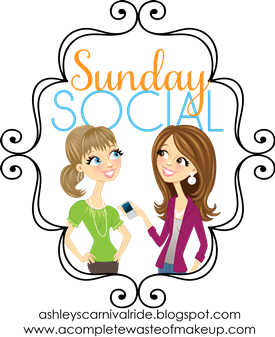 We took a few weeks away from the Sunday Social because our Sundays were crazy busy. But we are back now and ready to answer this week's questions.
What is your shopping weakness?
Amanda - Lately, I have been buying a lot of pretty yarns. I have no idea what I am going to knit with them, but I have the yarn ready to go.
Sean - I don't do a lot of shopping. The first thing that came to mind would be entry fees for running events as I don't want to pass up a great event.

What is your food weakness?
Amanda - Anything chocolate - especially a chocolate dessert.
Sean - I have a long list, none of which is good for me. Top of the list would be a good icecream.

What is your go to movie to watch when nothing is on?
Amanda - Ummm, my DVR is always so full that when nothing is on I go to that.
Sean - I have Netflix so there is always something there. If I had to choose a DVD movie it would be one of the Back to the Future movies.

What is your go to breakfast food?
Amanda - Yogurt parfaits right now are giving me something to look forward to in the mornings. The inspiration was the Chick-Fil-A Yogurt Parfaits.
Sean - It depends on the situation. Most mornings its either cereal or a ham, egg, and cheese breakfast muffin. If it's race day, I will grab a burrito or hoagie from Wawa as it packs in plenty of energy and protein for the event.

Do you drink coffee? If so how do you take it?
Amanda - Hot blonde with sand please! :) A little sugar and milk in the coffee, unless it is a Cafe Mocha which I take as is.
Sean -

Not a big coffee drinker. I have only had it a few times and I am by no means a hard core fan or addict.
Our favorite question was the first one - so we ask all of you, what is your shopping weakness?
Enjoy your Sunday!