Hello everyone!
Jessy, who blogs at The Artsy Cajun, hosted a monthly linkup where bloggers were given a chance to share a scripture that was speaking to them that month. She needed to pass that linkup off to someone for a little while, so we decided to take it on. We are stoked!
Here are the rules: (I hate that word rules, but I'm not sure what else to call it...suggestions? guidelines? expectations? I'll work on that and get back to you next month.)
-The linkup will open on the first Thursday of every month. It will stay open for the whole month, so fit your blog post into your own schedule, and then link back here!
-Follow the host, us (for right now, there aren't any co-hosts), on Bloglovin' and/or Blogger.
Link specifically to a blog post about scripture. If you link just to your blog, your link will be deleted.
-Share the love! Comment on the person who linked up before you! Check back and comment on the person who linked up after you! You can comment on how many ever blogs you'd like, but let's play nice and leave encouragement on the person in front of you and the person behind you in the list.
-Lastly, but most importantly, put the "Sharing Scripture" link up button somewhere in your blog post so others will learn of this cool little link up and join us! This one is so important, y'all. We want to promote you, but we also want to get the word out about this cool little link up! So, we hate to say it, but your post may be deleted if you're not putting the link up button on your post, somewhere, anywhere, it just needs to be there! Thanks for understanding.
Amanda created a button for this new phase of the linkup using a photo of a beautiful stained glass window in the church where Sean's sister and brother-in-law got married. It's near Newcastle, NSW in Australia. Please use this button when joining the linkup.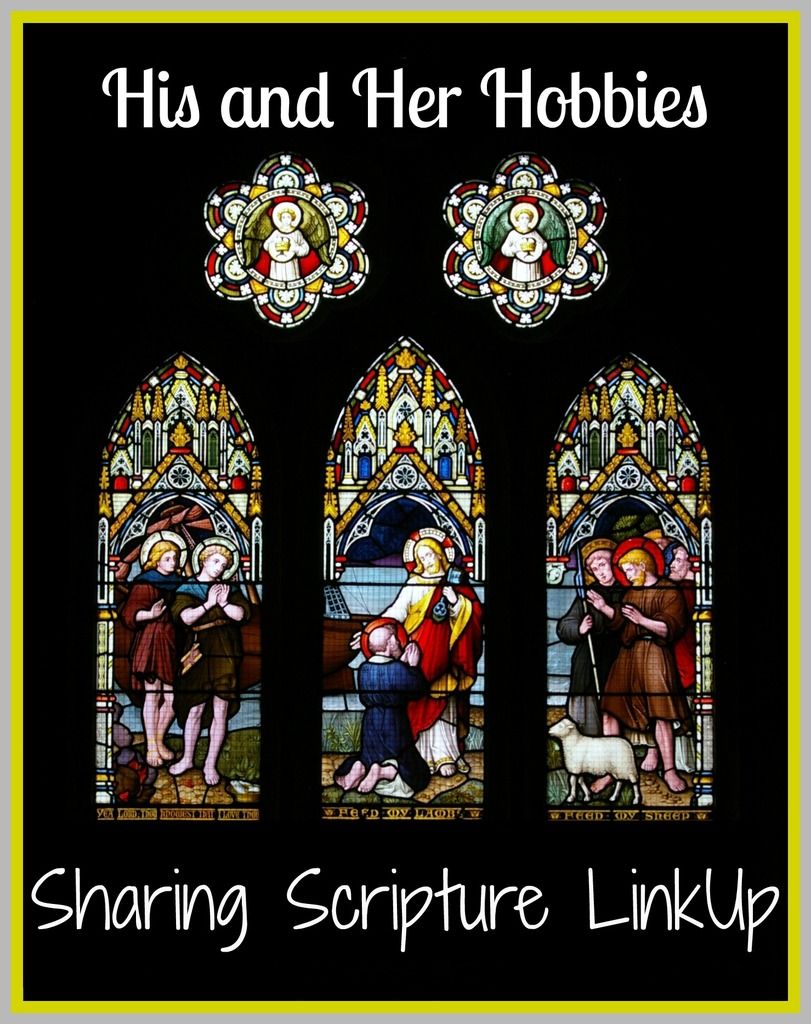 Our scripture to share:
For the past few weeks, our pastor has been preaching a sermon series he called "You Asked for It". Back in January, he asked the congregation to submit questions they wanted him to answer and he is working his way through them. This past Sunday the questions were: How do I let go of guilt and shame? How important is forgiveness? Why do bad things happen to good people?
It has been an amazing sermon series, but the part about forgiveness this past week really resonated with both of us. This scripture was a stand out --
Colossians 3:13 NLT -- Make allowance for each other's faults, and forgive anyone who offends you. Remember, the Lord forgave you, so you must forgive others.
Here are some points our pastor made after referencing this verse:
-When I give to others what God gives me, it helps us both.
-God fills me with grace and forgiveness, not so I can keep it all for myself, but so I can give it out to others.
-It's hard to give away what we really want for ourselves, but this is what we have to do.
-Pray for those who need your forgiveness. It's hard to be upset with someone you are praying for.
-Bitterness will always drain life.
Now it's your turn...
Blessings!